Charities
The Coast Hockey League proudly supports a number of Charitable Organizations including:
Canuck Place
What is Canuck Place Children's Hospice?
Canuck Place Children's Hospice is a leader in providing specialized care for both child and family when a child is living with a progressive life-limiting illness. For more information please visit www.canuckplace.com.
Greg Sproule of the Coast Hockey League recently attended the X-FM Bikini Car Wash and was proud to donate $2,000 to Canuck Place on behalf of all the members of the Coast Hockey League... Here are a couple pics of some of the hard working girls and Greg presenting a cheque to the X-FM DJ's.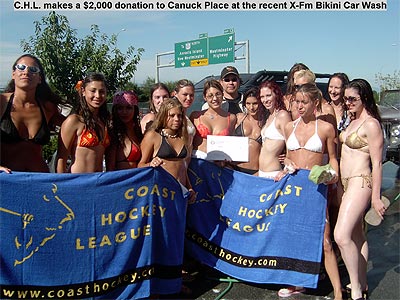 Richmond Food Bank
Each year members of the CHL get together to challenge the C-Fox Molson Ex-Men to a spirited game of ice hockey at the Richmond Ice Center. Spectators and players are asked to bring a donation of food to help assist the efforts of the Richmond food Bank. Keep posted to this site for information and dates regarding this year's game.